Venue Information
Where to find us
Venue Details
Synthplex™ is happening on March 28-31, 2019 at the LA Marriot Burbank Airport Hotel & Convention Center. See the map for exact location information.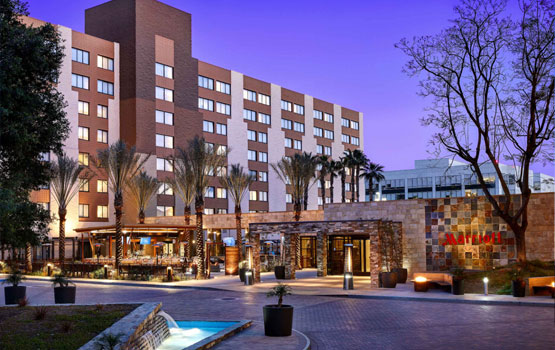 Location
Synthplex™ will be right here in beautiful downtown Burbank and the hotel and convention center is conveniently near the Burbank Hollywood Airport, formerly the Bob Hope Airport. The facilities are just beautiful at the LA Marriott Burbank Airport Hotel & Convention Center. There are great bars in the hotel and two restaurants on site. You are going to love this place. See map above for exact location.
Transport
Less than a mile away is the Hollywood Burbank Airport (BUR) and this airport is very small, extremely convenient and easy to get in and out quickly. You can also fly into LAX which is only 28 miles away, but it can take 1.5 hours by car to get to the hotel. So we highly recommend that out-of-towners fly into BUR instead. The Hollywood Burbank airport is so close that you will not need a rental car and the hotel has a complimentary shuttle bus going to and from the airport very often.
Hotel
At the LA Marriott Burbank Hotel, we have secured special discounted room rates of; $179 for a standard room or $229.00 for a suite (single or double occupancy). Click the appropriate link to select your desired room type. If you happen to call in to make your reservations at (800) 736-9712, you must mention Synthplex™ to receive this special discount and please note that you are seeking reservations at the Burbank Airport Marriott (BURAP). All reservations must be made on or before Friday, March 1, 2019. Don't delay, rooms will sell out quickly!